Norris lake Info
Norris Lake was constructed in 1934 and was the first lake in the Tennessee Valley Authority (TVA) system. It encompasses almost 35,000 acres with 880 miles of beautiful shoreline.

Nestled in the Cumberland Mountains, Norris Lake is the deepest TVA lake with extensive year-round main channel waterways.
Norris Lake water quality is second to none! The cleanest and highest rated TVA lake with approximately 96% purity and is crystal clear with 25' visibility! The water color is a beautiful teal blue with natural stone and hardwood shorelines! About 80 percent of the 230,000 people who live in the Clinch-Powell watershed depend on the river system for drinking water and other benefits.
Norris Lake is fed by two rivers, the Clinch and the Powell.
Approximately 75-80% of Norris Lake shoreline is controlled by TVA and the State of Tennessee. These areas are designated Wildlife Management Areas, State Parks, Country & City Parks and Marinas.
The abundance of deep water coves, pristine shoreline, numerous natural stone caves and depth of Norris Lake make it perfect for recreation, boating, water sports, hiking and fishing.
Stripers, Trout, Large and Smallmouth Bass, Walleye, Catfish and Blue Gill are just a few of the sixty-plus fish found in Norris Lake. The lake supports warm-water, cool-water as well as cold-water sport species. Norris Lake is rated by some as a TOP 10 Bass fishing lake in North America.
Very active Norris Lake watershed teams insure the lake maintains its' special uniqueness and quality of life. NORRIS LAKE IS THE ONLY AREA LAKE WHICH DOES NOT HAVE AN 'ADVISORY' CAUTION ISSUED BY TVA!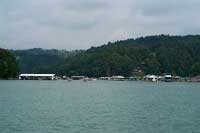 NOTE: ALL COVES AND DOCKS (WITHIN 300 FEET) ARE NO WAKE AREAS! This is one of the most critical boating laws. Please be respectful of other docks, persons swimming or fishing. JET SKIS - stay well away from other boats - do not ride in their wakes.
The Tennessee Wildlife Agency enforces and administers the provisions of the "Tennessee Boating Safety Act." Enforcement officers of the Agency are on the water to assist boaters as well as to enforce safety laws. Beginning January 1, 2005, boat operators born after January 1, 1989 mush show a TWRA issued card as proof of successful completion of a nationally approved boater education course approved by the TWRA.
Any non-resident operating a boat in Tennessee who falls within this age requirement must show proof of successful passage of a National Association of State Boating Law Administrations (NASBLA) approved boater education course.
All special marine events must first obtain a permit from the Executive Director of the TWRA. The free permit may be requested by applying to the TWRA at least 30 days prior to the date of the event.
Check the TWRA website for testing times and locations (www.tnwildlife.org)
FOR MORE INFORMATION & TENNESSEE BOATING LAWS: CONTACT www.tnwildlife.org